There are three main campsites.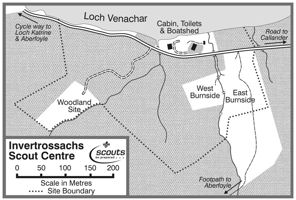 East Burnside and West Burnside are located on the hillside approximately 80 metres from the cabin and car park. Larger groups may book both of these; the combined site can accommodate in excess of 60. However, for camps exceeding 3 days duration numbers are capped at 50 due to limited facilities.
The Woodland site is a few minutes walk up a fairly steep path and is more suited to lightweight camping. However some prefer to make the extra effort to use this picturesque and more secluded site.
Camping is not permitted on the Games Area between the cabin and the boatsheds
 
The water supply to the cabin, toilets and showers is filtered and treated, and is safe for drinking. However, the water to the standpipes on East and West Burnside remains untreated and is not suitable for drinking, unless boiled.
The water supply system is usually drained from mid-November to the end of March; bottled water for human consumption should be brought in, whilst water for flushing toilets, etc. has to be carried from the loch during this period.
There is no piped water supply on the Woodland site.
The shower block and a small basic toilet block are located adjacent to the cabin. The toilet block does not have hot water. The shower block incorporates a disabled shower room with toilet - if there no-one with special needs on site, this may be used by adults ONLY.
Chemical toilets must not be emptied into the toilet drainage system as this will destroy the bacterial action in the septic tank.