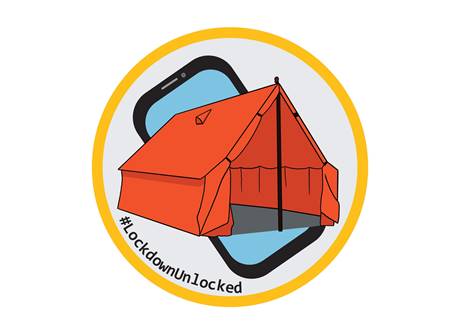 Welcome to Lockdown Unlocked!
Welcome to everyone who is taking part this weekend, we have lots of exciting activities to take part in throughout!
We will share everything across our platforms so no matter which one you use you can join in
We have over 600 already registered from around the world but if you haven't registered yet please feel free to join in and register if you haven't already Let us know you are here and give us a shout out letting us know where you are from
Enjoy the Camp!
Alasdair Garbett District Commissioner, Stirling & Trossachs
This event has now ended. If you registered please check your email for information about certificates and badges. Requests for badges must be made by the 30th June 2020
Lockdown Unlocked Programme
Saturday
Time

09:00

Welcome to Lockdown Unlocked!

Please find below a few videos to get us going!

Firstly, a message from Scouting Ambassador Steve Backshall to officially open the camp: https://youtu.be/sySXPJIDkuA

Next up a reminder from one of our Camp organisers, Emily, on what to expect over the weekend: https://youtu.be/CghtnR2Jk6s

Then a challenge from Mark, another member of the team, for you to think about: https://youtu.be/CRY8QDkzyCY

Remember to send your videos for this to This email address is being protected from spambots. You need JavaScript enabled to view it.

Finally, another one of our organisers, Niall, is going to help get your tents set up. Can you put it up as quick as him? https://youtu.be/hlxeUVM9plQ

Remember that you can also find the links to these activities (and show us what you've been up to) on our Social Media:

Facebook Group: Lockdown Unlocked

Twitter: @LockdownUnlocked

Instagram: @Lockdown.Unlocked

09:30

A Scoutmaster Challenge!

Just to keep you busy if you have any down time over the next 2 days, a little challenge, Task Master style, for you to get thinking about: https://youtu.be/lIeYK99M6mA

Don't forget to show us your creations on our Social Media!

10:00

12:00

Lunch Time!

If you are joining us for lunch today Pizza is on the meu! Below are 3 short clips to get you sorted for making your pizzas in whatever way you prefer!

Using pitta bread: https://youtu.be/-xoXSd6Gn0E

Using tortilla wraps: https://youtu.be/BxK-exT3LdY

Feeling up for a challenge? Make your own dough: https://youtu.be/WiYUZEhC7no

and here's a reminder of all our meals this camp: https://drive.google.com/file/d/1nEXWSe0Qu_DVua5A8s2mLsnMKDTsEuZV/view?usp=sharing

13:30

Animation!

Welcome back, we hope you had a tasty lunch!

We thought it was time to get creative, so here's a video tutorial to show you how you can create your very own animations with your phone or tablet: https://youtu.be/jU6LYBCbz04

using Stop Motion Studio (a free downloadable app) - but feel free to get animating any which way you like!

As it's so nice - why not film one outside?

Don't forget to post and show us what you come up with!

15:30

Experiment Time!

Our team (and some helpers) have put together 4 different experiments for you to give a go.

You can do one, or all of them. You could even come up with your own and show us!

Experiment 1 – White Light Spinners:

Video: https://youtu.be/kMYURexjOLg

Instructions: https://drive.google.com/file/d/1UbRW2GcgKKC_p18HPkZkK_3I3oRRRg53/view?usp=sharing

Experiment 2 – Oil and Water:

Video: https://youtu.be/cdL74U_Y9cA

Instructions: https://drive.google.com/file/d/1ZGGp06ocsatVr6nPUmPzUQDf-XzpmSww/view?usp=sharing

Experiment 3 – Balloon Rocket:

Video: https://youtu.be/5pEI5SxhkgM

Instructions: https://drive.google.com/file/d/1tiKcwn13EWIeOKwE9TO14yF2XbBD1yEe/view?usp=sharing

Experiment 4 – Measuring Alkalis and Acid:

Video: https://youtu.be/IYPRYnDlCKA

Instructions: https://drive.google.com/file/d/1qxQNhk6gc-RizQlU4x9g2wQpspSc7f74/view?usp=sharing

17:00

Languages!

This challenge is split by section, so below you will find a video and tasks for you depending on which section you belong to.

If you aren't in Scouts, take a look and do the one that takes your fancy!

Beavers:

Video: https://youtu.be/exgWUdcXQp4

Instructions: https://drive.google.com/file/d/1Blc8WXSjYcpBrg94RXFaiLUFcGl3kAYv/view?usp=sharing

Cubs:

Video: https://youtu.be/6dQ-ymXdOUU

Instructions: https://drive.google.com/file/d/1mXqS79Hyn1GzpEvcVjr8Fuv-tKu-7WHw/view?usp=sharing

Scouts:

Video: https://youtu.be/znEy0BAiZM0

Instructions: https://drive.google.com/file/d/1Lc61-uhXfFXAqp8D9ulzNwQu_HMobJSk/view?usp=sharing

Explorers:

Video: https://youtu.be/Um12M8YY-Z8

Instructions: https://drive.google.com/file/d/1UCL0V460VIopjFOKvUJm7J51oYyReYtH/view?usp=sharing

and if you are on any of our Social media let us know where in the world you are!

18:00

Dinner Time!

For dinner you may have seen we posted up a ScoutMaster Challenge before camp started.

If not, here it is again: https://youtu.be/-OB3sEJe5tU

Get creative and don't forget to show us what you make!

19:00

Campfire!

It wouldn't be camp without a singsong around the campfire.

We've pulled together videos sent in by some of our attendees to share their favourite songs, jokes, and sketches. Thank you for all of the contributions!

Hosted by Niall, please enjoy!

20:00

Notice: Change of plan for tonight

Tonight at 8pm we had planned 'Pickle your noggin'
However, something else amazing is happening tonight at 8.22pm UK time.

NASA and Space X will be re-attempting their launch of their Falcon 9 rocket!
Lifting off from Launch Pad 39A atop a specially instrumented Falcon 9 rocket, Crew Dragon will accelerate its two passengers to approximately 17,000 mph and put it on an intercept course with the International Space Station.

Seeing the fantastic creations you have made with the Balloon Rockets this afternoon, this is not something we can miss!
We are going to cancel the Quiz and suggest everybody has a look at the launch, it's a historical moment.

The launch can be viewed live on may sites, below are a few:
https://www.nasa.gov/content/live-launch-america-nasas-spacex-demo-2-mission-to-the-international-space-station
https://www.youtube.com/watch?v=21X5lGlDOfg

At around 8.35pm and 10.22pm the rocket can be seen in the sky coming from West to East (later will be easier in the darker sky) - who can spot it????

We hope you are all not too disappointed and will enjoy the extra special activity NASA has prepared for us:)

21:00

Bedtime Story!

A couple of stories from Aunty Gwen to help you get to sleep

See you in the morning!
Sunday
Time

09:00

Breakfast Time!

Morning Campers, hope you slept well.

We've got a choice of pancakes or Eggy Bread for you this morning.

Oh, by the way, you have to cook it yourself. What will you go for?

Pancakes: https://youtu.be/7PRW2c7XiU0

Eggy Bread: https://youtu.be/wVtO0fM4t4M

10:00

Scouts Own!

A bit of time for reflection and, especially as we can't be together in person, time to think about things in these unusual times. Led by Reverend Barry Hughes:

10:30

Scavenger Hunt!

Right, the weather is great (at least where we are) and it's time to get out and about and go hunting!

Some will be in your home, but for others you may have to get out on your "Boris Walk" (sorry if you're not in the UK!) and find us some things!

Here's your list: https://drive.google.com/file/d/1JvpBGnHgq0Bqv-NslPgHBRnczTddJdOj/view?usp=sharing

share your best finds with us on social media!

12:00

Lunch Time Again!

For lunch today we thought we would set you another challenge. Get thinking!

13:30

Knots!

Another traditional Scouty skill, we've got a selection of quick tutorials below to have a go at.

Challenge yourself to see how many you can do!

Beavers - can you manage 2 in a minute?

Cubs - can you manage 4 in a minute?

Scouts - can you do all 6 in a minute?

Explorers - can you do any behind your back?

Share your attempts!

Clove Hitch: https://www.youtube.com/watch?v=GDj_6wiymLw

Reef Knot: https://www.youtube.com/watch?v=pR5IywN1Jys

Sheetbend: https://www.youtube.com/watch?v=Ro8hah66HlU

Timber Hitch: https://www.youtube.com/watch?v=qGrGPD-NGHs

Bowline: https://www.youtube.com/watch?v=ItjWb5ecexM

Roundturn and 2 Half Hitches: https://www.youtube.com/watch?v=p3gXLAkl5ic

Our thanks to Angus from 7th Beechwood Stirling Scouts for allowing us to use his videos. He has many more on his YouTube channel where these came from if you would like to see more!

15:30

Fire Lighting!

No camp would be complete without having a go at lighting a fire.

So have a watch of the video below which shows you a variety of ways to get a fire going and, if you are able to do so, go give it a try.

Please stay safe and make sure you are supervised appropriately (and we aren't just talking about the kids!)

A little bonus feature: https://youtu.be/js4h6YM32gE

and an extra challenge from Chippie: https://youtu.be/vjlFU4A1CA0

17:00

Closing words!

Well that's it folks. We hope you enjoyed yourselves – we certainly did! Here are a few words from Andrew Sharkey, Chief Commissioner of Scotland, Alasdair Garbett our District Commissioner, and some extra info... : https://youtu.be/6noZU358Xsc

To help you out with awarding badges we have put together a breakdown for each section.

This is only a guide, and Young People may have covered more or less (depending on what they have done over the weekend). Remember, have a chat with your leader, show them some evidence of what you got up to, and it'll all count!

Beavers: https://drive.google.com/file/d/1LBZro3dqrfcw6QRahLe17wtfx7QaCFSi/view?usp=sharing

Cubs: https://drive.google.com/file/d/1Ept6QFYZUqx4YBNGiYnyW6k1vGagMY3F/view?usp=sharing

Scouts: https://drive.google.com/file/d/1jY8KwdDrz084eeRlWC-I52aewrsycGsJ/view?usp=sharing

Explorers: https://drive.google.com/file/d/1ttkVEay37CAQJjBu_vKzC51K_Ye12idO/view?usp=sharing
For more information, please see: https://youtu.be/CghtnR2Jk6s
Food is important at camp!
Here are our suggestions for Lunch, Breakfast and snacks + ingredients needed: https://drive.google.com/file/d/1nEXWSe0Qu_DVua5A8s2mLsnMKDTsEuZV/view?usp=sharing
During camp we will give you instructions and help preparing these!
Saturday Evening's Dinner is one of our Scoutmaster challenges that will pop up during the weekend.
Watch the video to take part!: https://youtu.be/-OB3sEJe5tU
Scoutmaster Task: Unlock Saturday Dinner on 30th May Prepare the best Unlocked dinner You have until Dinner time on 30th May Your time starts NOW
#LockdownUnlocked - Kit List
This kit list is an example of the kind of things you may need to complete our various activities.
On the day you will be able to pick and choose what to take part in, and may find other items in your house that you could use instead.
Sleeping
·Tent or Items to make a den (Inside or Out)
·Sleeping bag / roll mat/ pillow
What have the romans ever done for us?
·Straight sticks (collect on your walks)
·OR bamboo canes
·OR wooden Skewers
·Rubber bands (LOTS!)
·String
Stop! Go!
·Phone or tablet (not the eating kind of tablet)
·Paper and pens/pencils
·Imagination
Einstein ain't got a look in!
·Scissors - left or right handed
·Red, Green and Blue pencils/felt tips
·Cocktail Stick (halved) or similar
·Vegetable Cooking Oil
·Empty Plastic Bottle with lid
·Tap Water
·Washing Up Liquid
·Balloon
·String or similar
·Wide Straw
·Sellotape
·Small piece of Red/purple Cabbage (retrieved from a bag of mixed salad?)
·Mixing Container (Mortar & Pestle if you have one or small dish and a spoon)
·Acids for testing – vinegar, lemon or lime juice, clear fizzy lemonade
·Alkalis for testing – bicarbonate of soda, washing soda crystal, clear liquid soap.
·Small clear container(s) for testing pH.
No parley vous Espanol..
·Access to a computer
·Paper and pens
·Phone or tablet (not the eating kind of tablet)
It's all just friction!
Rope or string
Watch yer eyebrows!
Pickle your noggin