Coronavirus Update
Readiness Level YELLOW - Camping permitted from 1 July
Invertrossachs is a district-run campsite approximately 7 km from Callander. It is located in the grounds of Invertrossachs Estate on the south shore of Loch Venachar, within the Loch Lomond and Trossachs National Park (O.S. sheet 57, MR 578 049). The Trossachs is also Clan MacGregor country and, in days long gone, home of one of Scotland's most famous highland rogues, Rob Roy MacGregor.
The site consists of 3 camping areas and mature woodland on the south side of the estate road, with a cabin, boatsheds, toilets, shower block, activity/games area and car park on the north side of the road. Each campsite can accommodate several patrols.
There is no resident warden on site.
Getting there: The site is reached from Callander town centre by taking the A81 Glasgow road then, at a mini-roundabout, bearing right on a minor road signposted Invertrossachs. The road beyond the junction at Gartchonzie Bridge is a single track 'No Through Road', and is public as far as the estate lodge gates. Proceed along the private road carefully for approximately 2 km. This section of road is normally very busy with walkers and cyclists, so please observe the 20 m.p.h. speed limit.
The exact location is pinpointed here on google maps. The PostCode FK17 8HG for SatNav identifies the cottages of the tiny village of Invertrossachs which is another 2km along the loch-side road.
Please note that the road from Callander is unsuitable for coaches or large trucks.
ACCOMMODATION
The cabin comprises a main room (8.0m x 5.5m), kitchen, and large entrance porch with drying and storage areas. The cabin is primarily for day use, but may be used for emergency shelter overnight in exceptional circumstances (i.e. high winds, tents washed out).
There is electric heating and lighting, a fridge/freezer, electric kettle and urn, and a gas cooking range. Gas is included in the cabin fee, electricity is 'pay as you go' via a coin meter (£1 & £2 coins). Tables, chairs and benches are provided, but users require bringing their own cooking equipment, utensils, crockery and cutlery.
In addition, a large family-size BBQ is available to hire. Available from April to October.
Ancillary secure storage is available in the green and cream steel shed near the boatsheds. Can be used for bikes, activity equipment, etc. See notice in cabin for access code.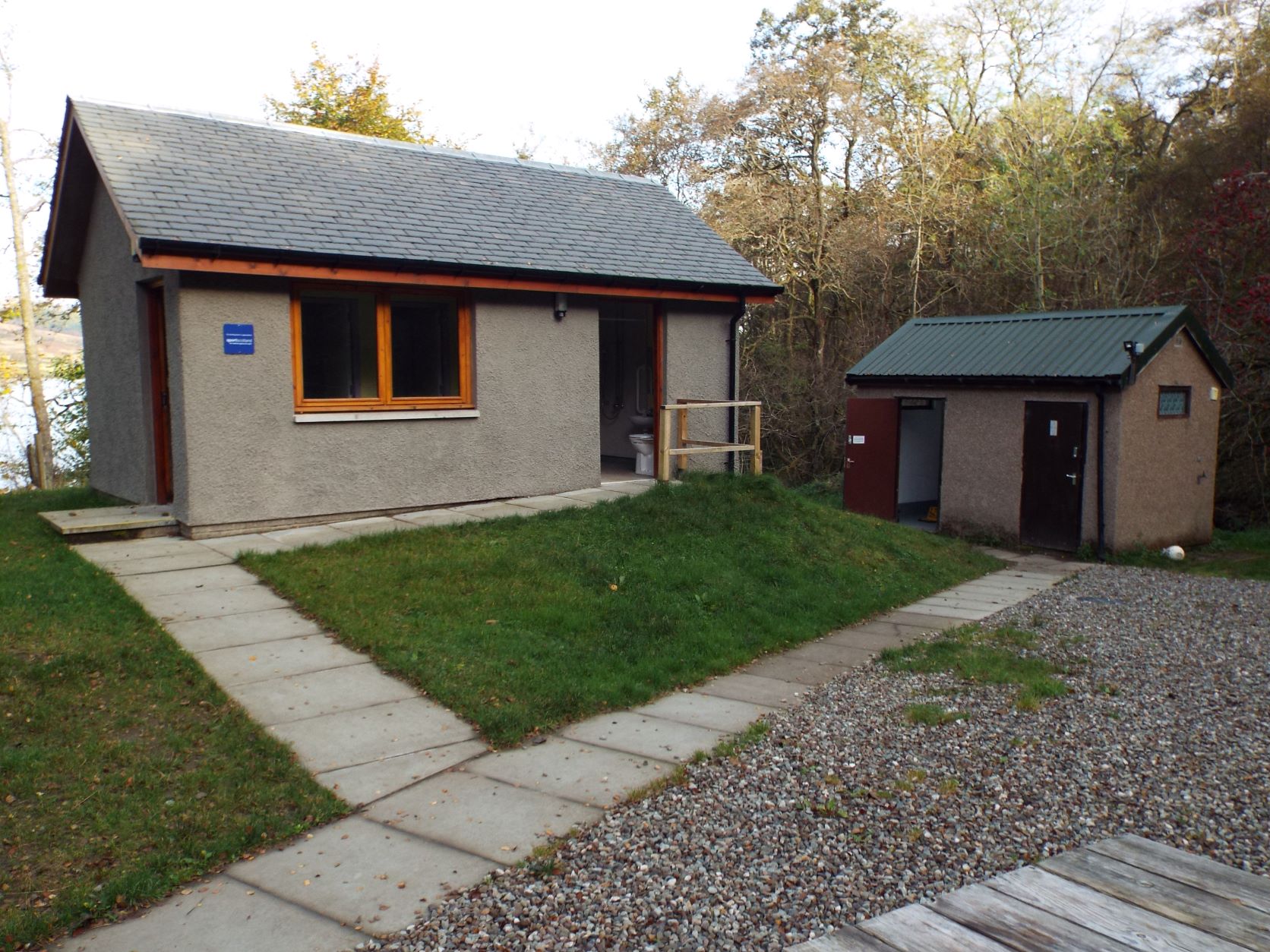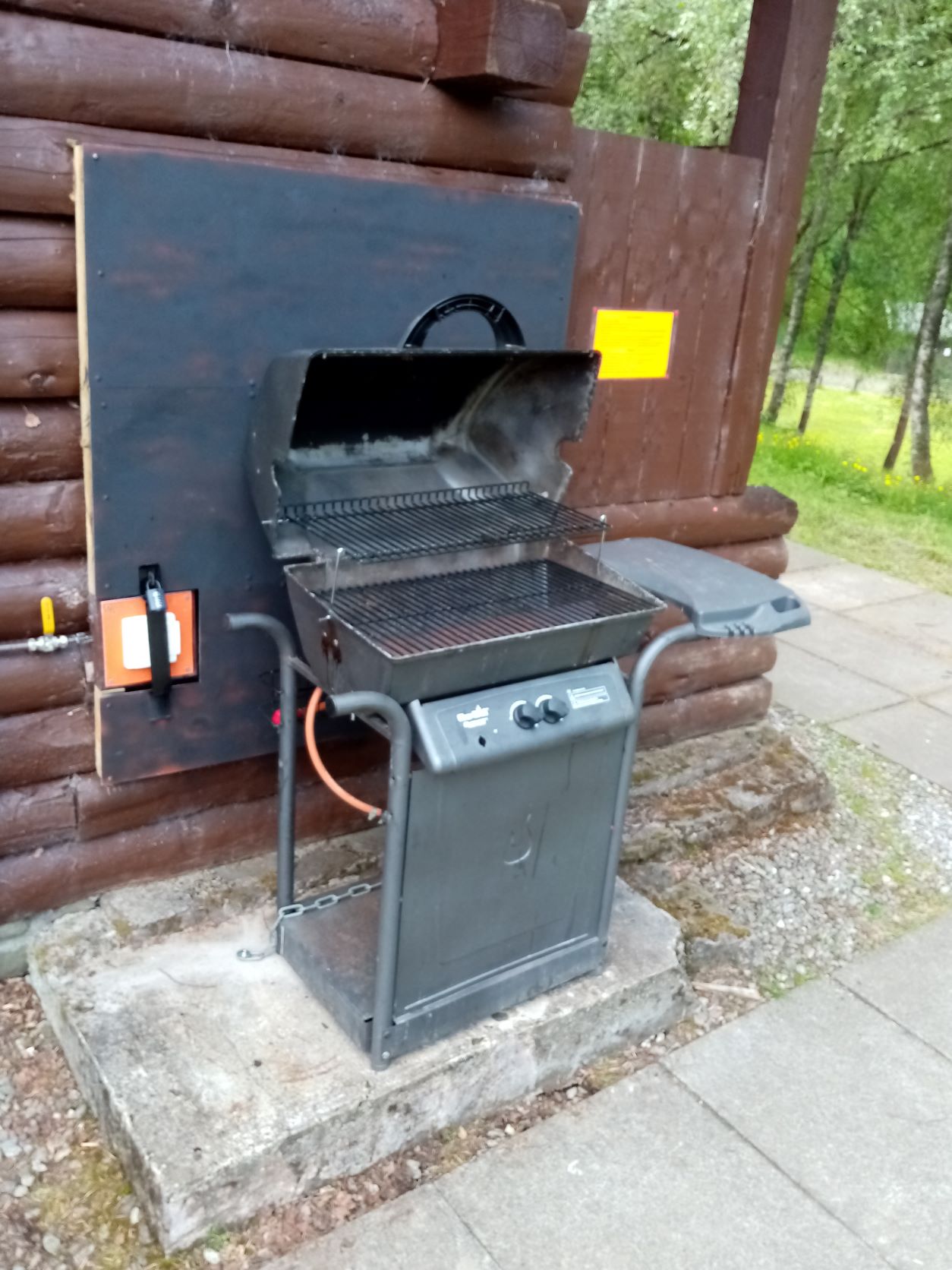 The shower block and a small basic toilet block are located adjacent to the cabin. The toilet block does not have hot water. The shower block incorporates a disabled shower room with toilet - if there no-one with special needs on site, this may be used by adults ONLY.
The water supply to the cabin, toilets and showers is filtered and treated, and is safe for drinking. It is usually drained from mid-November to the end of March; bottled water for human consumption should be brought in, whilst water for flushing toilets, etc. has to be carried from the loch during this period.
Chemical toilets if used must not be emptied into the toilet drainage system as this will destroy the bacterial action in the septic tank.