Invertrossachs Campsites
There are three main campsites: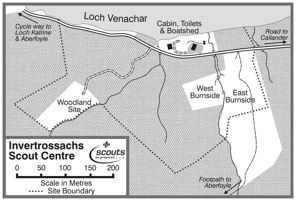 East Burnside and West Burnside are located on the hillside approximately 80 metres from the cabin and car park. Larger groups may book both of these; the combined site can accommodate in excess of 60. However, for camps exceeding 3 days duration numbers are capped at 50 due to limited facilities.
The Woodland site is a few minutes walk up a fairly steep path and is more suited to lightweight camping. However some prefer to make the extra effort to use this picturesque and more secluded site.
Camping is not permitted on the Games Area between the cabin and the boatsheds
The water to the standpipes on East and West Burnside is untreated and is not suitable for drinking, unless boiled.
There is no piped water supply on the Woodland site.
Potable water is obtained from any tap in the cabin and toilet area.